I have always enjoyed the idea of travel in pursuit of new adventures. In fact, I have always found a direct correlation between the distance traveled and the personal impact of travel on my life.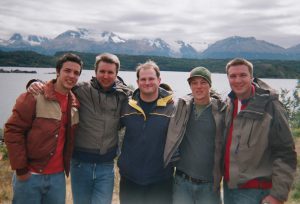 Maybe that had something to do with my older brother and I growing up in Ohio, three thousand miles away from my Dad, younger brothers, and much of my Dad's side of the family. Jumping on a plane to Calif
ornia three times a year since I was 3-years-old somehow shifted my thinking to view travel in terms of time, not miles. California may have been on the other end of the continent, but to me it was only 5 short hours away. So, in 2006 when my four brothers, Dad, and myself signed on for a fishing trip to Patagonia, Chile, the fact that it was on the other end of Earth was not overwhelming, but exhilarating.
But the idea of the trip was still scary for several reasons. I was 29 years old and had recently married. Mandy and I were still establishing our lives together and careers, still dealing with a pile of student loan debt, wedding expenses, and talking about a family of our own. Although we were all making a decent living, neither I nor my brothers, could afford a fishing trip to Chile — no matter how 'rustic' we designed the adventure. However, at the end of the day it wasn't really up to us. Being a part of this family came with certain expectations and inherent responsibilities. And when the rare opportunity comes along to get us all together... that was our duty. Yes, all of us had our challenges to overcome to make this trip a reality but we all focused on the commitment. We would all be there... somehow, someway.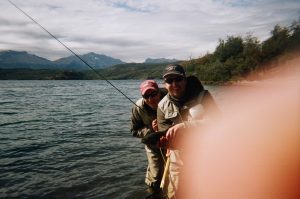 The 12-day adventure was full of wonderful memories and stories to be told and retold, but by far the most important thing to come from this epic trip came down to a moment... and a discussion that changed our lives.
On our last night, after thousands of air miles, hundreds of driving miles on winding, cliffside roads, dozens of rivers and lakes, hundreds of stunning brown and rainbow trout, and dozens of bottles of Chilean wine, we arrived at a bar in the Coyhaique, XI Región to celebrate the week. We talked about what an important time it had been and how glad we all were to have made it happen. The conversation led us to asking why? Why did we have such an obligation to each other? How did this bond become so strong? It was through hours of smiles, laughter, and sharing memories that collectively answered those questions. Having separated parents as siblings and cousins we grew up in different parts of the country, our parents, aunts, and uncles prioritized that we spend every summer together. We talked about the cornerstone of our past summer trips, a vacation home that our families had purchased together. The result an annual reunion vacation that led to an unbreakable bond that developed between our generation of siblings and cousins.
The conversation then shifted to how WE might be able to make a similar life-impacting purchase? We talked about many different business ideas that might enable our dream. It soon became clear that even though we'd spent our lives to that point becoming experts in our respective industries and careers, we didn't know how or where to begin starting a business that would lead to dreams of this magnitude. We finally boiled it down to the lowest common denominator to establish as our foundation. At that moment, we took THE critical first step. We committed to a monthly automatic money contribution into a joint bank account. $500 a month auto- deposited from each of us into a new joint account we would set up as soon as we were stateside. At that time this was not an easy commitment but it was the pledge that formed our own investment tribe.
Once we landed back in the U.S., the shine started to wear off. We didn't even know where to start. Determining our dream and discussing dream investments was fun but we hadn't thought about all the stuff we'd need to do to set up and manage our Tribe, let alone figure out how to make sure it was successful. Just finding the right bank and joint checking account was a challenge. (Missing block of time) And then, when we did finally have enough capital to consider a dream investment, how did we bring the opportunity to the group; how did we come to a consensus; where and how did we find a lending solution? What about forming an operating agreement, LLC and then how do we handle taxes? What if we wanted to invite a new member to join our Tribe? Or if member needed to leave our Tribe? I must confess our approach at the time was that we'd 'worry about that stuff' later. We eventually answered each one of these questions the 'hard way' through painful trial and error. And when we did finally grind our way through this stuff, it was hardly organized or a template for future tribes.
However, ten years later we have a long list of successes. We are part owners of a medical physician's office, we have a partnership with one of the largest national home builders in the country. While between investments we found a way to put our dormant capital to work through private lending. In 2017 we broke ground on a 7-story grade A apartment building across the street from one of the largest and most respected universities in the world. We are even a founding principal of one of the fastest growing owner groups in the horseracing business. In fact, April 2016 my tribe helped me celebrate my 40th birthday by watching our race horse compete for a $1.25 million purse. What a ride! We are achieving more than we ever dreamed of and now our biggest challenge is to dream bigger.
These successes led me to an idea: how could I package this experience and all we have learned along the way, so others could follow in our footsteps and achieve investment dreams that might otherwise be out of reach? The idea coalesced into TribeVest. An online investment platform that enables users to create and manage a group of investors (whom we call Tribes) to better position your team every step of the way to make successful shared investments.
– Travis Smith